TODAY'S COMIC: "Pokemon Oh"
Yes, history is being made today! For the first time ever there exists a cartoon of me naked.  Well, sort of.  Hope you all enjoy it!
I can't say I've been taking advantage of the health benefits of Pokemon Go. My day is pretty well full. I work all day, then come home to family time.  Then when Luna falls asleep I work on Skitter.  We do take walks from time to time, but not enough to make a dent in weight loss.
When Luna gets a bit older and can focus on seriously walking, I'll be able to lose a few pounds.  For now, though, we'll stop-and-go as she checks everything out on our "walk around" time.
MOBILE APP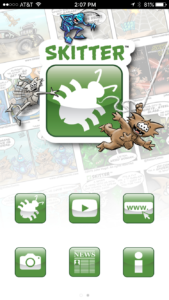 To promote the app, and gain more exposure, would it be too forward of me to request that you Skitter fans ask your friends to download it and check it out? It's free, so it won't cost them anything.  They can always delete it later if they want.  But this would really help promote Skitter.
They can find the app links on the left of this email.  Or they can just search for "Skitter" in the app stores for Apple or Android.
Many thanks if you do help spread the word! Let's see how many downloads we can get!
John