TODAY'S COMIC: "Social Media"
I wanted to do a strip that made people aware of all the social media sites where Skitter could be followed.  The idea of a cheesy local commercial with bad acting cracked me up. In the 80's there was an old Lincoln Tech commercial in the Chicago area with this guy playing football…
"Hi… My name's Dan… I'm a good football player… but I can't make it in the pros of football… But I sure can make it at Lincoln Tech… and in a year… I'll be doing… what I want… to do."
This comic is the Skitter version of that commercial.
Yeah I'm taking a chance that doing a comic like this is taboo. It might be bad form.  I don't care.  It made me laugh when I thought it up.
In Patreon news, I finished the art cards for my patrons!  I just need to get some protecting covers to slip them in before I mail them.  I tried to this weekend but the baseball card shop by me was closed. I'll try again this next weekend.
EMAIL
Also, I offered to send anyone who signs up for the Skitter email list a Skitter sticker.  There were quite a few of you that signed up.  The offer is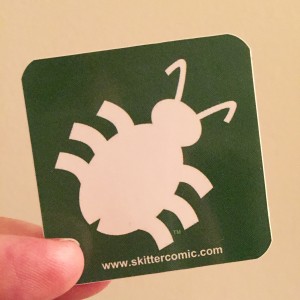 still good if anyone wants to tell their friends about it. The form to sign up is on the left side of the Skitter web page. I'll be sending the stickers out at the end of the month.
Enjoy today's comic!
John
↓ Transcript
SOCIAL MEDIA

JACK: "Hey...Chip...did you... know... Skitter is on... Twitter?"

CHIP: "Why, yes... Jack... and fans... can... also follow Skitter... on Facebook!"

GYPSY: "Hey!... Guys!... Don't... forget... Instagram!

ALL: "Ha ha ha ha ha ha ha"

JACK: "Why aren't they clicking?"

GYPSY: "They're just glaruing at us"

CHIP: "I think this was a bad idea"